Bethesda Painting Awards Finalists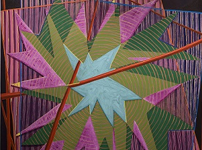 Mary Anne Arntzen, Baltimore, MD **BEST IN SHOW WINNER!
Mary Anne Arntzen earned a Masters of Fine Arts from the Maryland Institute College of Art and her Bachelor of Fine Arts from Boston University. Her work has been shown nationally, including recent exhibits at the Walters Art Museum, the Painting Center and St. Charles Projects in Baltimore, MD. She has completed residencies at the Wassaic Project, Vermont Studio Center and Woodstock Byrdcliffe Guild. She was a 2018 nominee for the Joan Mitchell Painting and Sculpture Grant, and a finalist for the Sondheim Prize in 2017. Arntzen has taught at the Maryland Institute College of Art, George Washington University and the Community College of Baltimore County. She is also a member of ICA Baltimore.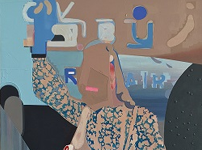 Taha Heydari, Baltimore, MD **FINALIST
Taha Heydari moved to Baltimore to pursue his MFA at the Maryland Institute College of Art (MICA). Since his graduation in 2016, he was granted an artist visa and has worked full time in his studio in Baltimore. His paintings have been shown in solo exhibitions at School 33, Baltimore, MD; Haines Gallery, San Francisco, CA; Southeastern Center for Contemporary Art, Winston-Salem, NC and Ethan Cohen Gallery, New York, NY. He is interested in painting as a possibility of encountering what images do in relation to what they are made of and how they appear to us as well as non-humans. Pixelated broken tv images, caused by Iranian government satellite jamming, triggered Heydari's fascination with the moment of glitch.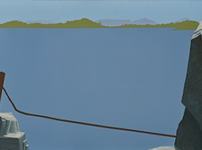 Lillian Bayley Hoover, Baltimore, MD **FINALIST

Lillian Bayley Hoover's paintings explore the banal, awkward, overlooked and imperfect elements of our material environment. Recent solo exhibitions include Holding Space at Goya Contemporary. She has participated in group exhibitions at Delaware Art Museum, American University Museum, Creative Alliance, School 33 and Aichi Prefectural Museum of Art in Aichi, Japan. Hoover has been awarded residencies at Alfred and Trafford Klots International Program for Artists, Vermont Studio Center, Monson Arts Center and Virginia Center for the Creative Arts. Her work has twice appeared in New American Paintings and was selected for the cover of the 69th issue. Hoover earned her BFA from the University of North Carolina, Asheville and her MFA from the Maryland Institute College of Art. Hoover won The Trawick Prize: Bethesda Contemporary Art Awards in 2012.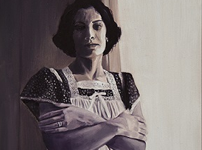 Gina Gwen Palacios, Baltimore, MD **FINALIST
Gina was born in Taft, TX and received her Bachelor of Arts TV/Film from Texas A&M Corpus Christi and a Master of Arts in Instructional Technology from the University of Texas at Austin. Gina's career has spanned working in television news, corporate training, web design and later in academia. Wanting to focus more deeply on her artistic practice, Gina received a Post-Baccalaureate certificate in Studio Art from Brandeis University and in 2018 graduated with an MFA in Painting from The Rhode Island School of Design. She appeared in a solo show at Left House Gallery as well as a two-person exhibit at Gallery Black Lagoon, both in Austin TX. She will attend the Santa Fe Art Institute Artist Residency in Santa Fe, NM.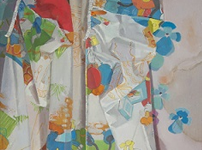 Erin Raedeke, Montgomery Village, MD **FINALIST
Erin Raedeke received her Bachelor of Fine Arts from Indiana University in 2000 and her Master of Fine Arts from American University in 2009.  She has had solo exhibitions in New York, Baltimore, and Philadelphia and has participated in numerous group shows, including the BP Portrait Award exhibit at the National Portrait Gallery in London. Raedeke has been a recipient of the Maryland State Arts Council Individual Artist Award in 2013 and 2016, and is a member of the painting collectives Perceptual Painters. She has given artist lectures at universities and colleges in California, Illinois, Arkansas, Maine, Virginia, and Florida. Raedeke was a Bethesda Painting Awards Finalist in 2013 and 2016.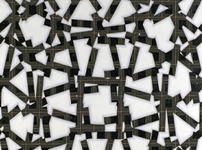 W.C. Richardson, University Park, MD **SECOND PLACE WINNER!
W.C. Richardson a professor of painting and drawing, and Chair of the Department of Art at the University of Maryland. He is represented by Addison Ripley Fine Art in Washington, D.C. Richardson has had 21 solo exhibitions in galleries and museums in Washington, D.C., New York, Baltimore, St. Louis, Richmond, Atlanta, and Chapel Hill, NC. His work has been included in over 100 group throughout the country, and is held in numerous public, corporate and private collections, including the Hirshhorn Museum and Sculpture Garden and the American University Art Museum in Washington, D.C. and the Ackland Art Center in Chapel Hill, NC. He has served as an individual juror or panelist for many institutions as well as curating or co-curating exhibitions in the mid-Atlantic region. He has created commissioned artworks for the Ronald Reagan National Airport and Reston Town Center in Virginia. He has received numerous grants and awards, including eight Individual Artist Fellowships from the Maryland State Arts Council.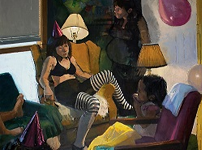 Nicole Santiago, Williamsburg, VA ** THIRD PLACE WINNER!
Nicole M. Santiago holds a BFA in studio art from Indiana University and an MFA in painting from the University of New Hampshire. She is primarily a figure painter/ drawer who focuses on domestic scenes and layered familial narratives. Over the past 20 years, Santiago has shown in more than 100 group/solo exhibitions. She is currently a member of the First Street Gallery in New York City. Her works have also been published in several respected art publications including The Artist's Magazine, Art New England, and International Painting Annual 1 (INPA-1). Santiago has also taught studio art at a variety of institutions including the University of New Hampshire, Edinboro University of Pennsylvania, New Hampshire Institute of Art, Oregon State University and Berea College. She is an associate professor of art at the College of William & Mary where she teaches drawing, color theory and design.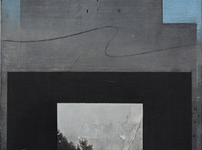 McKinley Wallace III, Baltimore, MD ** YOUNG ARTIST WINNER! 
McKinley Wallace III is a painter and draftsman whose art depicts strength expounded by the oppressed and an educator dedicated to cultivating people-oriented environments that foster inclusive community building and high-quality learning. Wallace received a Bachelor of Fine Arts in painting at Maryland Institute College of Art (MICA). His studio work has obtained both local and national attention, including solo exhibitions at MICA, Jubilee Arts, Baltimore Polytechnic Institute, Gallery CA and Creative Alliance. He has also participated in group shows at Connersmith Gallery, Waller Gallery, Palazzo dei Cartelloni in Florence, and Interlochen Center of the Arts. He has also worked collaboratively to create murals for NIKE, Inc., Access Art, Inc., and Monarch Global Academy. Wallace aims to create explicit, mixed-media illustrations of these cases to visually identify how they are impacting central functions of Maryland today.